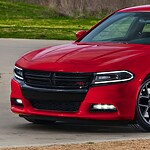 The new Dodge Charger is a showstopper of a midsize sedan. Its popularity stems in part from its comfortably designed and innovative interior. These features make this sedan ideal for any kind of driving.
It has a roomy interior that can seat up to five people. You will find bucket seats trimmed with comfortable leather. Even the steering wheel is padded with leather for your comfort. The steering wheel is also heated for your convenience. You no longer have to grip an ice cold wheel on frigid winter mornings. Your hands will stay warm and comfortable while you drive.
The inside of the new Charger also features the innovative UConnect Nav4 system, which contains much of the car's smart technology. This system can be used for navigation and media control. It lets you pair your phone or tablet to the Charger so you can make phone calls or send texts without taking your hands off the wheel.