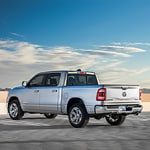 A popular light-duty pickup truck, the RAM 1500 has the capabilities you need to get hard jobs done right.
Whether you need to haul excessively heavy equipment or need to help a friend move some furniture, the RAM 1500 has all the strength you desire and then some. Don't believe us? This year, the RAM 1500 is able to tow up 12,750 pounds and can handle up to 2,300 pounds in its flatbed alone. Moreover, the flatbed itself has several multi-functional abilities that make loading and unloading, as well as climbing in and out of the bed, much easier. The bed is even equipped with a small storage unit to help you carry even the smallest items in an organized and efficient manner.
If you're expecting to face a hard job soon, you may want to consider taking a RAM 1500 with you. Doing so will make the task much easier, and people will be sure to thank you for it.