Dodge, Chrysler, Jeep, RAM, Ford Collision Repair Center Serving Baton Rouge, LA, Livingston Parish, and Surrounding Areas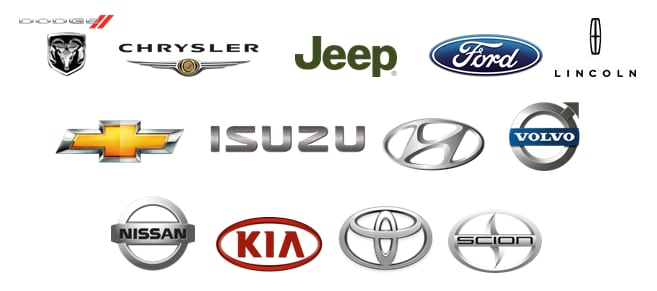 The paint and body on your new vehicle should provide years of lasting beauty and durability if maintained properly. Your Owners' Manual outlines some helpful tips for keeping that "new car" look for many years, but accidents do happen.
At All Star Collision Center in Denham Springs, we work for the consumer and closely with the insurance company to insure quality repairs and quick turnaround. We focus on high standards and understand the importance of fixing it right the first time. We have the tools, equipment, training and Original Equipment Parts to bring your car back to like-new condition. Because your vehicle is built to such high standards in fit and finish, an equally high level of collision repair and refinish service is required to restore your vehicle to original specifications.
Always request your insurance company to use Original Equipment Collision Parts.  That's because Original Replacement Parts are manufactured to the same specifications as the parts installed on new vehicle, a process that has helped the manufacture gain its outstanding reputation for quality.  It has been proven time and time again Original Equipment parts have a better fit and finish than non- Original Equipment parts.
Benefits:
Faster repair completion to get you back on the road
State-of-the-art tools and equipment to ensure top-quality repairs
Computerized paint-mixing and matching equipment to ensure undetectable repairs
Certified Collision Repair and Refinish Technicians- excellent service provided by expert technicians is a major component of All Star's ongoing commitment to provide total consumer satisfaction

Genuine Original Equipment Parts help maintain your original new car warranty
F150 Certified and Trained

Large parts warehouse with a large inventory on site

We repair all makes and models
Direct access to Dodge, Chrysler, Ram, Jeep,  Ford, Lincoln, Kia, Nissan, Chevrolet, Toyota, Genesis, Volvo and Hyundai service departments for mechanical repair
All Star Chrysler Dodge Jeep Ram & Ford 
 is the leading collision repair facility in the Livingston Parish area. Our confident and friendly technical team & office staff is fully trained and equipped to handle even the most challenging repair jobs and will take care of your car, truck, or SUV as if it were one of our own. We will take care of you needs from start to finish with a smile and appreciation.
Frame and Unibody repair
Auto body panel repair
Radiator service & replacement
Glass replacement/repair
Plastic bumper repair
Small dents & door dings
Spot painting
Complete paint jobs
PDR (Paintless Dent Repair)
Hail damage
Ford F150 Certified

At
All Star Collision Center
, our detailed auto body collision repair process ensures that your vehicle will be restored to like-new condition in as little time as possible. Please read the information below to become familiar with this process.
Estimate

Your vehicle will be inspected in our estimate area. Data is then entered into our computerized estimating system that helps us produce the most accurate estimate possible. At this point, we will order your parts so that we can start repairing your vehicle as soon as possible. If your vehicle cannot be driven, we can arrange to meet you with a rental vehicle.
Insurance Approval

The insurance company will review the estimate. Often, there is some negotiation between us and the insurance company about the price and procedure used to repair the vehicle as well as the parts to be used. This is also when the insurance company determines whether the car is repairable or a total loss. Once this process is completed, we can begin repairing the vehicle.
Disassembly

When a vehicle is disassembled, sometimes hidden damage is found and inner structure repairs can be assessed. Sometimes, this will require scheduling insurance re-inspection and ordering additional parts.
Gather Parts

We order parts as soon in the process as possible. (We have a full-time parts employee who specializes in making sure that the right parts arrive as soon as possible.) The repair process cannot begin until we have received all of the structural parts.
Structural Repair

In the Structure Repair area, the unibody is returned to Factory specifications. A sophisticated laser measuring system is used to monitor all phases of this process. A computer-based measurement system is used to analyze the frame of your vehicle. This system ensures an accurate repair.
Body Repair

At this step, we replace exterior panels and do all metal finishing that may be required. The vehicle begins to come back to life as sheet metal is installed and aligned.
Reassembly

Final moldings and detail pieces are put back on the vehicle in the reassembly area. All of the vehicle's systems are checked during this process.
Paint

The key to a good paint job is preparation. The panels to be painted will need to have good paint adhesion. This critical process is performed in our paint prep booths. The paint is mixed in our computerized mixing machine, and then the color and clear coat is applied in our special down-draft paint booth. These state-of-the-art paint booths make sure that the paint is applied in an environment free of dust and baked at the optimal temperature.
Detailing

Wash and prepare for delivery.  Your vehicle is washed then road-tested and inspected to make sure the repairs meet or exceed industry standards. Your vehicle is then road-tested and inspected to make sure that the repairs meet or exceed industry standards.
Delivery

We call you and schedule a time to deliver the vehicle to you. We have a covered and well-lighted delivery area, so that you can inspect your vehicle and take delivery of your car in any weather. We will go over the final paperwork with you, and then you can drive off in your clean and fully-repaired vehicle.